On-line Proofs
Get access to your proofs quicker and easier with our on-line client response application, available to Horton Photography customers through our password-protected Client Login site.

Using a unique username and password combination, clients review proofs on their computer and send their selections over the internet. If you choose, you may share your username and password with family & friends for help making your selections, or even just to share the photos.

Do keep in mind that these are proofs. The images are low-resolution and have not been treated. Those images that you selected will be fully edited and re-touched, and you will be provided with high resolution (print quality) files.

Below is a screenshot to give you an idea of what the site looks like. There are small thumbnails of all images, which expand into larger images when you click on a particular thumbnail. You can quickly scroll through the larger images using the arrow keys on your keyboard. Each thumbnail has a selection box in the top-right corner that you can toggle back and forth from "unselected" (red X) to "selected" (green check mark).

To see a sample of our on-line client response tool, click here to open our Client Login page and login using the username wenbre and the password truck.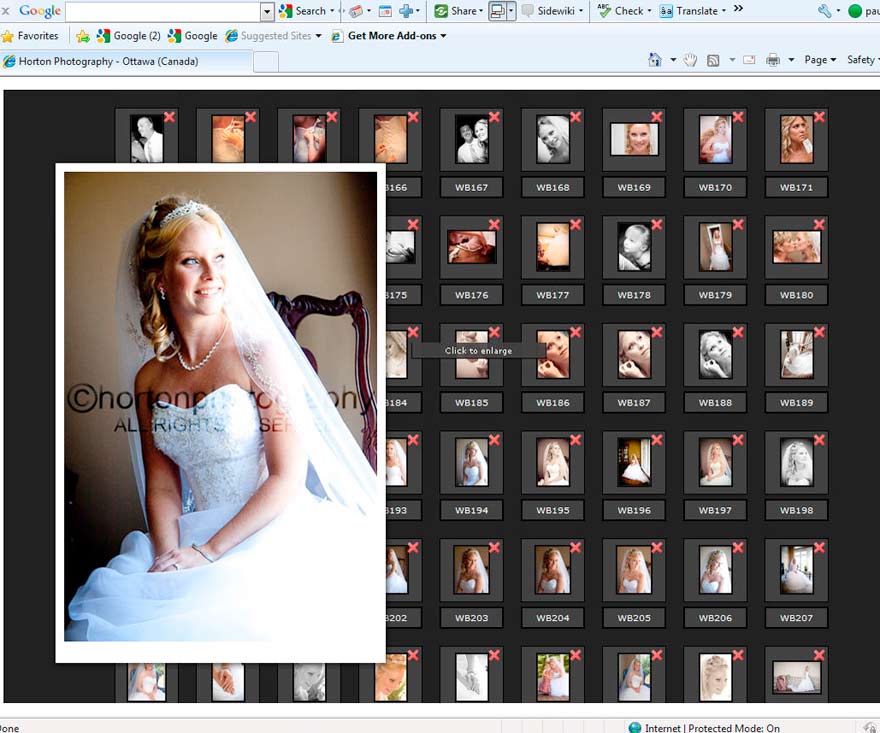 >
Posted on 24 May 2010 by Horton Photography | Blog Home Page